Help
•
Terms of Use
•
Wanted Pages
•
Categories
The Exorcist Wiki is an encyclopaedia all about everything there is to know about the book, films, and upcoming television series entitled "The Exorcist." Anybody can create, view or edit an article on this page, so we can work together to create an accurate database for fans of the supernatural horror series. Currently housing 192 articles and 338 pictures.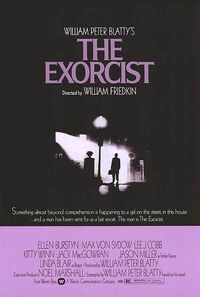 The Exorcist is a 1971
novel
by
William Peter Blatty
. The book details the demonic possession of twelve-year-old
Regan MacNeil
, the daughter of a famous actress, and the Jesuit psychiatrist priest who attempts to exorcise the demon.
The novel was inspired by a 1949 case of demonic possession and exorcism that Blatty heard about while he was a student in the class of 1950 at Georgetown University. The novel is the basis of the film adaption, whose screenplay was also written by Blatty.
Since it had a successful run in theaters, there have since been four sequels released: Exorcist II: The Heretic, The Exorcist III, Exorcist: The Beginning, and Dominion: Prequel to the Exorcist.


`
Not sure where to start?
If you are new to wikis, see Help:Getting Started.

For new editors:

please read our

Manual of Style

.
Adding content
Check out the forum for general discussions.